<![CDATA[SN-INDEX-OPEN]]>
GoE2021 - P08 - The Galactic Crystal Healing Chamber with Susan Kennard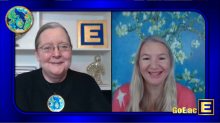 Learn about a fascinating research project in pure energy healing concerning recent events in public health and their effects on people's energy body health.
🔑 Free For Members - Login | 👨‍💼👩‍💼 Join Library - £39.97 GBP / year
Susan who is known as a Spiritual Scientist originally trained in psychology and psychotherapy over 20 years ago. In the last 12 years added many energy healing modalities to her practice. Susan has an extensive tool box which has allowed her to create her own unique way of working. Susan has been a therapist for over 20 years and in that time has specialised in helping people to clear their trauma on all different levels. Susan is trained in Meta Health helping people to find their own inner healer and facilitating their healing journey of the body.
Run Time: 46m
Recorded for the GoE Energy Conference 2021
<![CDATA[SN-INDEX-CLOSE]]>
💛 Donate To Support The GoE
If you enjoy this, please consider donating to the GoE. Your continued support makes a huge difference.