<![CDATA[SN-INDEX-OPEN]]>
GoE Modern Energy Foundation Course (The Energy Course), 2023 Edition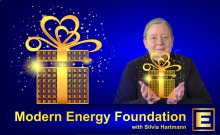 Silvia Hartmann's GoE Modern Energy Foundation is a free online certified video course for GoE Members.
Presented over five hours of online training, this course covers: The Modern Energy Chart, EMO Energy in Motion , MET Modern Energy Tapping , SM SuperMind Enhanced Creativity, MSM Modern Stress Management, The Power of the Positives & SMX Star Matrix.
Each course unit has a video to watch, exercises to do and an online test to complete. Once you have completed all the course units we'll email you your personalised certificate for printing.
⭐ This is the 2023 Edition of the course and contains new and updated units
🔑 Free For Members - Login | 👨‍💼👩‍💼 Join Library - £39.97 GBP / year
Instructions For Members
Login to this website - click "Login" top-right of this page
Click "Watch Now" and enrol on the course
Instructions For Non-Members & Former-Members
Subscribe to The GoE for just £39.97 GBP / year. As well as Modern Energy Foundation you'll also have access to all the other benefits and bonuses of membership including all the content available in the GoE Library:
Details:
<![CDATA[SN-INDEX-CLOSE]]>