<![CDATA[SN-INDEX-OPEN]]>
The NOTHING Principle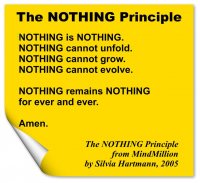 The NOTHING Principle (MindMillion, Silvia Hartmann 2005) states that NOTHING remains NOTHING. Any SOMETHING is a vast improvement because a SOMETHING is, whereas a NOTHING isn't. This is particularly important in the context of building something from the ground up, especially if resources are tight.
Added
Jun 28, 2022
|
1,601 Reads
Excerpt from MindMillion:
A lot of people THINK about writing a book, opening a cafe, giving up their 9-5s to do something, but they don't do it.
Their "thing" remains a NOTHING. It will always remain a NOTHING – until it is being actualised and produced in the Hard.
There was a man who built a huge restaurant chain and who started with a miserable second hand hotdog cart. The first book I ever wrote was a 16 page pamphlet.
Sure, these things were miserable. Pathetic. Neighbours might sneer and spit at that sort of thing, especially when the hotdog man started talking about how one day, his cart would become a global empire, and I started talking about a big multi-media publishing empire that would change the world.
Yeah, so you get sneered at for your first ever miserable pathetic something. Of course. It is going to be small and not very impressive. But what the muppets don't get is that there won't be ANYTHING EVER unless you're willing to go through that.
The cart becomes two, then a third one and that one is new. The pamphlet becomes a bigger pamphlet, and then the first real book. That's evolution and that is how things work.
EVOLUTION IS THE FIRST LAW OF NATURE.
As this is one of these completely global "as above, so below" principles, it works for all things, all levels.
A one line classified ad becomes a boxed ad, a quarter page and then a whole page. We learn the lessons and get our feet wet with our pamphlets and classified ads, with our hotdog carts and making furniture in the garden shed. That's where we START TO LEARN how to do this, how to make something that will become better, greater, more, as it proceeds through its development.
As it and we both EVOLVE.
A lot of "day dreaming" and "goal setting" is counter productive to these essential processes of empire building because there we start out with the immensely "impressive" end result and when we compare THAT to the miserable pathetic thing we are doing right now, it can freak people out so much, make them so unbearably disappointed and hurt that they just chuck it all in and go back to working the desk at the local library.
As with the mistakes and beliefs, this is not a question of denying truth and reality but the opposite.
That first second hand hotdog cart REALLY IS PATHETIC. It really is, but that's no reason to get distraught.
It is the first vehicle to sell hotdogs from and it's here, that's the only thing that counts.
That it is HERE, and that it is REAL.
Now, we can improve it. Buy a better fryer for it. Paint it up. Put it in a better location. Give our users better tomato ketchup. And free serviettes.
None of which can happen until it is here and real.
Added
Jun 28, 2022
|
1,601 Reads
<![CDATA[SN-INDEX-CLOSE]]>
Do you love ENERGY? Do you love working with energy, playing with energy, talking about energy and discovering more about Modern Energy?
The GoE is the place to be for Modern energists.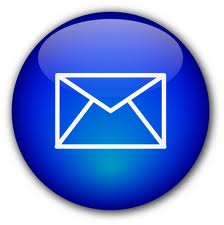 Find out what's on where, who's doing what in energy tapping & Modern Energy. Get special offers & the latest information on special events, workshops and certification courses.