<![CDATA[SN-INDEX-OPEN]]>
GoE Trainer's Guide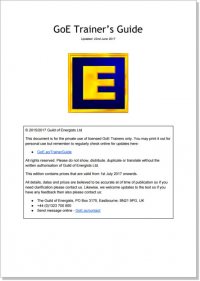 The GoE Trainer's Guide is now ready for all our trainers to download free-of-charge. It is crammed full of advice for trainers at all levels and explains the support and procedures we have in place to help you succeed.
Updated: 16th November 2023
Languages: English
File Formats:

Adobe Portable Document Format (PDF)

These Files Are For Trainers Only: How To Become Trainer
Added
Nov 16, 2023
|
19,630 Reads
How To Download
Login to this website before clicking the download button below. If you need us to email you your password, click the Resend Password button:
About The GoE Trainer's Guide
Topics include:
Welcome from Alex Kent, CEO GoE
First Steps to Success
Trainer Mentoring
List of Trainer Mentors
Apply to be a Trainer Mentor
Zoe Hobden - GoE Global Member Support Manager
Connecting With Other Members & Trainers Online
Member Group
Trainer Group
Establishing Yourself In Your Community
Who To Contact
Run Introductory Trainings
Write a GoE Newsletter For Your Region
Instructions
Download Talks for Energists
Marketing for Energists with Silvia Hartmann
Setting Yourself Up to Succeed
How To Run Successful GoE Trainings
Choosing A Venue
Before Your Event
Pre-Event Checklist
During Your Event
After Your Event
GoE Course Prerequisites
GoE Course Requirements
Availability of Required Reading Books
What To Do If Prerequisite Books Are Not Available
Information for Trainers Wishing to Translate Books
GoE Course Minimum Pricing
GoE Certification Procedure
GoE Professional Membership
GoE Standard Membership
How to Submit New Members
GoE Certificate Seals
GoE Certificate Seal Discounts
GoE Training Manuals
GoE Training Manuals
Standard Delivery
Expedited Delivery
Ordering in Bulk (20+)
Ordering DragonRising Books - 50% Discount for Trainers
Using Your Own Printer
Translations
Course Summary Matrix
Detailed Guide to Courses and Course Pathways
FAQ Frequently Asked Questions
What Trainings May I Teach?
Who May I Teach & Certify?
Minimum Age To Be Professional Member
Foundation Trainings - What Certificate should I award them?
Where can I downloads forms, templates and presentation slides?
Who do I contact if I need assistance?
What promotion material is available to me?
Will The GoE advertise my trainings?
Premium Promotion Help
GoE Legal Structure
GoE Long Term Plan
What is the GoE Rosetta Tool?
What to Include in Booking Terms and Conditions
Next Steps: Become an GoE Trainer Trainer
Trainer Tips: What the Trainers Say!
Copyright Information
This document is for the private use of licensed GoE Trainers only.
All rights reserved. Please do not show, distribute, duplicate or translate without the written authorisation of Guild of Energists Ltd.
All details, dates and prices are believed to be accurate at of time of publication so if you need clarification please contact us. Likewise, we welcome updates to the text so if you have any feedback then also please contact us.
Added
Nov 16, 2023
|
19,630 Reads
<![CDATA[SN-INDEX-CLOSE]]>