<![CDATA[SN-INDEX-OPEN]]>
It's EFT Jim but not as you know it... - Positive EFT Article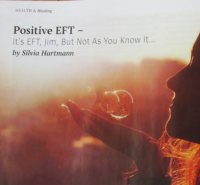 Positive EFT - It's EFT, Jim, but not as you know it ...
Our chairperson Silvia Hartmann makes the case for positives in modern energy work in this article published by Watkins Mind, Body, Spirit, Issue 29, Autumn 2014.
Added
Sep 1, 2014
| |
6,882 Reads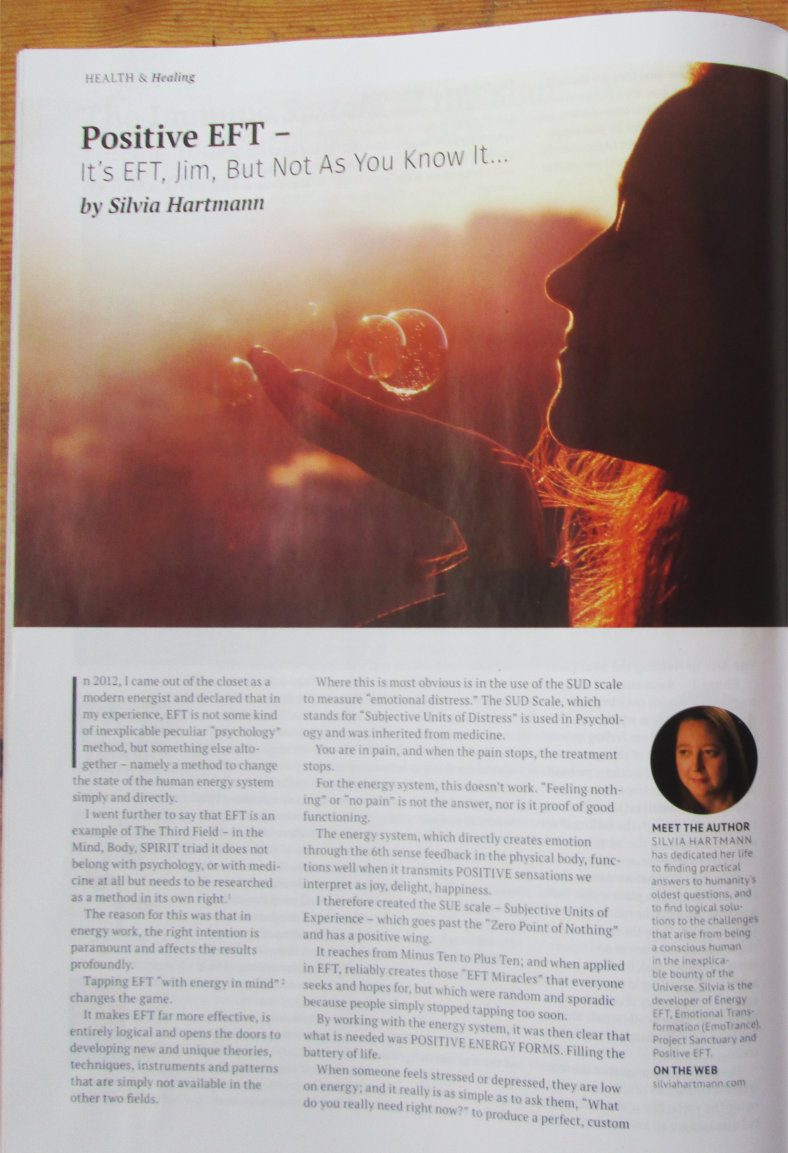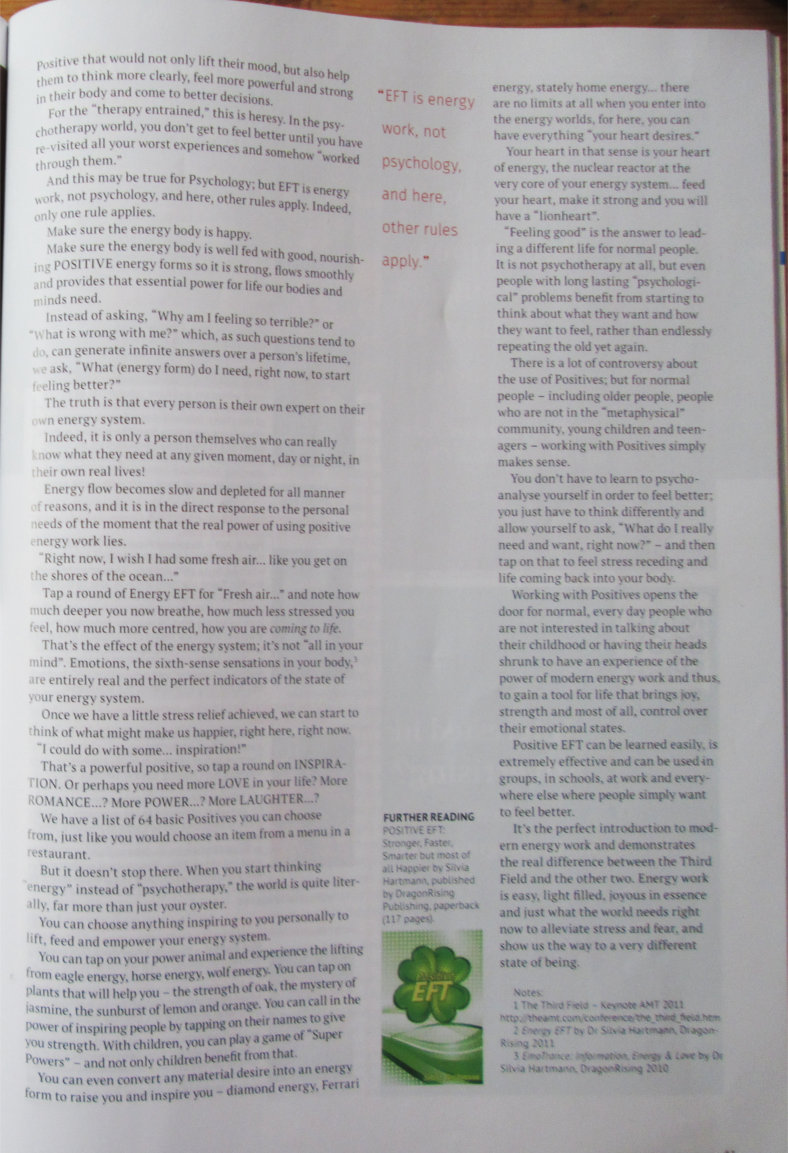 Positive EFT -
It's EFT, Jim, But Not As You Know It ...
Silvia Hartmann
In 2012, I came out of the closet as a modern energist and declared that in my experience, EFT is not some kind of inexplicable peculiar "psychology" method, but something else altogether - namely a method to change the state of the human energy system simply and directly.
I went further to say that EFT is an example of The Third Field - in the Mind, Body, SPIRIT triad it does not belong with psychology, or with medicine at all but needs to be researched as a method in its own right.i
The reason for this was that in energy work, the right intention is paramount and affects the results profoundly.
Tapping EFT "with energy in mind"ii changes the game.
It makes EFT far more effective, entirely logical and opened the doors to develop new and unique theories, techniques, instruments and patterns that are simply not available in the other two fields.
Where this was most obvious was in the use of the SUD scale to measure "emotional distress." The SUD Scale, which stands for "Subjective Units of Distress" was/is used in Psychology and was inherited from medicine.
You are in pain, and when the pain stops, the treatment stops.
For the energy system, this doesn't work. "Feeling nothing" or "no pain" is not the answer, nor is it proof of good functioning.
The energy system, which directly creates emotion through the 6th sense feedback in the physical body, functions well when it transmits POSITIVE sensations we interpret as joy, delight, happiness.
I therefore created the SUE scale - Subjective Units of Experience - which goes past the "Zero Point of Nothing" and has a positive wing.
It reaches from Minus Ten to Plus Ten; and when applied in EFT, reliably creates those "EFT Miracles" that everyone seeks and hopes for, but which were random and sporadic because people simply stopped tapping too soon.
By working with the energy system, it was then clear that what is needed was POSITIVE ENERGY FORMS. Filling the battery of life.
When someone feels stressed or depressed, they are low on energy; and it really is as simple as to ask them, "What do you really need right now?" to produce a perfect, custom Positive that would not only lift their mood, but also think more clearly, feel more powerful and strong in their body and come to better decisions.
For the "therapy entrained," this is heresy. In the psychotherapy world, you don't get to feel better until you have re-visited all your worst experiences and somehow "worked through them."
And this may be true for Psychology; but EFT is energy work, not psychology, and here, other rules apply. Indeed, only one rule applies.
Make sure the energy body is happy.
Make sure the energy body is well fed with good, nourishing POSITIVE energy forms so it is strong, flows smoothly and provides that essential power for life our bodies and minds need.
Instead of asking, "Why am I feeling so terrible?" or "What is wrong with me?" which, as such questions tend to do, can generate infinite answers over a person's lifetime, we ask, "What (energy form) do I need, right now, to start feeling better?"
The truth is that every person is their own expert on their own energy system.
Indeed, it is only a person themselves who can really know what they need at any given moment in a day or night in their own real lives!
Energy flow becomes slow and depleted for all manner of reasons, and it is in the direct response to the personal needs of the moment that the real power of using positive energy work lies.
"Right now, I wish I had some fresh air ... like you get on the shores of the ocean ..."
Tap a round of Energy EFT for "Fresh air ..." and note how much deeper you now breathe, how much less stressed you feel, how much more centred, how you are *coming to life.*
That's the effect of the energy system; it's not "all in your mind," emotions, the 6th sense sensations in your bodyiii, are entirely real and your perfect indicator of the state of your energy system.
Once we have a little stress relief achieved, we can start to think of what might make us happier, right here, right now.
"I could do with some ... inspiration!"
That's a powerful positive, so tap a round on INSPIRATION. Or perhaps you need more LOVE in your life? More ROMANCE ...? More POWER ...? More LAUGHTER ...?
We have a list of 64 basic Positives you can choose from, just like you would choose an item from a menu in a restaurant.
But it doesn't stop there. When you start thinking "energy" instead of "psychotherapy," the world is quite literally, far more than just your oyster.
You can choose anything inspiring to you personally to lift, feed and empower your energy system.
You can tap on your power animal and experience the lifting from eagle energy, horse energy, wolf energy. You can tap on plants that will help you - the strength of oak, the mystery of jasmin, the sunburst of lemon and orange. You can call in the power of inspiring people by tapping on their names to give you strength. With children, you can play a game of "Super Powers" - and not only children benefit from that.
You can even convert any material desire into an energy form to raise you and inspire you - diamond energy, Ferrari energy, stately home energy ... there are no limits at all when you enter into the energy worlds, for here, you can have everything "your heart desires."
Your heart in that sense is your heart of energy, the nuclear reactor at the very core of your energy system ... feed your heart, make it strong and you will have a "lionheart" ...
"Feeling good" is the answer to leading a different life for normal people. It is not psychotherapy at all, but even people with long lasting "psychological" problems benefit from starting to think about what they want and how they want to feel, rather than endlessly repeating the old yet again.
There is a lot of controversy about the use of Positives; but for normal people, and including older people, people who are not in the "metaphysical" community, young children and teenagers, working with Positives simply makes sense.
You don't have to learn to psychoanalyse yourself in order to feel better; you just have to think differently and allow yourself to ask, "What do I really need and want, right now?" - and then tap on that to feel stress receding and life coming back into your body.
Working with Positives opens the door for normal, every day people who are not interested in talking about their childhood or having their heads shrunk to have an experience of the power of modern energy work and thus, to gain a tool for life that brings joy, strength and most of all, control over their emotional states.
Positive EFT can be learned easily, is extremely effective and can be used in groups, in schools, at work and everywhere else where people simply want to feel better.
It's the perfect introduction to modern energy work and demonstrates the real difference between the Third Field and the other two - energy work is easy, it is light filled, it is joyous in essence and what the world needs right now to alleviate stress and fear, and show us the way to a very different state of being.
Silvia Hartmann
Author, "Positive EFT"
Chairman, The AMT
 Positive EFT - Buy Now, Click Here.
iiEnergy EFT by Silvia Hartmann, DragonRising 2011
iiiEMO: Information, Energy & Love by Silvia Hartmann, DragonRising 2010
Added
Sep 1, 2014
| |
6,882 Reads
<![CDATA[SN-INDEX-CLOSE]]>
Do you love ENERGY? Do you love working with energy, playing with energy, talking about energy and discovering more about Modern Energy?
The GoE is the place to be for Modern energists.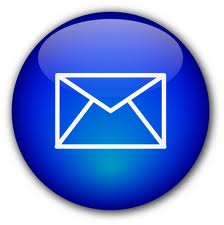 Find out what's on where, who's doing what in energy tapping & Modern Energy. Get special offers & the latest information on special events, workshops and certification courses.