<![CDATA[SN-INDEX-OPEN]]>
We Are The Guild of Energists! - Review 2017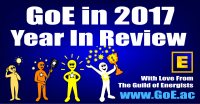 Alex Kent, CEO of the Guild of Energists (GoE) reflects on how our not-for-profit modern energy organisation has grown and flourished in 2017. The GoE is now active in over seventy countries, serves over 1,800 members and has a complete range of courses on Modern Energy including Modern Energy Tapping, Healing, Stress Management, Coaching and Energy Dating.
Starting out in 1998 providing professional classic energy tapping training courses, the Guild now offers professionals and courses for people no matter where they currently are on the Modern Energy Chart - Therapy (phobias, fears, anxieties, PTSD), Healing (Hands-on-healing, Animals), Corporate Wellbeing (Modern Stress Management, Creativity), Coaching, Dating Coaching and Creativity.
---
Added
Dec 30, 2017
| |
11,579 Reads

Dear Energist,
As 2017 draws to a close, it fills me with warmth, happiness and gratitude to reflect on all we've managed to achieve together this year. Wow - members of The Guild of Energists have certainly been busy and I'm sure I only know the half of it!
Each of us has the power to make the world a better place with Modern Energy ideas and techniques and it's been a joy to hear about your stories.
It doesn't matter how big or small your effort, just know that you're making a difference. Whether you helped a child to not be afraid of the dark, taught a teenager how to stay calm and positive during their exams, have taught many people throughout the year, or whatever you've done to help someone - a BIG well done!
This has been our 19th year since we were founded and beyond seeing how The Guild of Energists has grown and evolved in that time, it's been even more rewarding for me to watch our members experience new Modern Energy Chart energy highs!
Last year, we were celebrating a massive development which is called the GoE Rosetta Program - a project to make it as easy as possible to have GoE manuals and documents translated into as many languages as possible.
Well this project has meant that the GoE now has 1,819 members in 73 countries and we can truly say that Modern Energy has gone international!
For example, Modern Energy Tapping Foundation (aka Energy EFT Foundation) was launched just last year and is already available in Arabic, English, Dutch, French, German, Portuguese, Spanish & Turkish - that's billions of people who can now take this fabulous course in their own language.
This year, the pace of development has not let up for an instant!
The biggest update has to be the new tapping course Modern Energy Tapping Professional which Silvia Hartmann developed and will be teaching herself after the conference. We've learned so much from the thousands of Energy EFT Master Practitioners who've taken our previous flagship tapping training that this new course is way more powerful and leads to much easier threshold shifts for both clients and practitioners alike.
Modern Energy Tapping Professional is fully designed for GoE Rosetta Software, meaning it'll be easy to translate into any languages that trainers wish to teach it in. If you can't wait to read the new Modern Energy Tapping book by Silvia Hartmann, then be assured it's coming soon in 2018!
Modern Energy Healer developed by Silvia Hartmann was launched in March at the gorgeous Sedgwick Park in the United Kingdom and the feedback was fabulous as people were having epiphanies all over the place! This is a course all about raising your personal energy for helping others as "The more you have, the more you have to give."
In June, we launched the new seven day intensive GoE Trainer's Course where we've got more time to teach the new trainers all about not just being top-level Modern Energy teachers, but also how to run a successful training business.  We had some amazing feedback from Wendy Fry who was one of the first to take the course.
"A fabulous seven days of experiential learning and playing with energy. 

"Ever evolving as an energist this training will take you and your business to the next level. With the added advantage of Modern Stress Management Trainings, Energy Coaching and Energy Healing The Guild of Energists trainings are leading the way in creating energy solutions to combat stress and not only that taking you, your clients, your trainings, your relationships, your personal development and business through the roof.

"Your future aspect is ready to take this training, don't keep them waiting!"
With the next GoE Trainer's Course in June 2018, now's the time to get started preparing yourself if you'd like to teach Modern Energy courses! 
Modern Energy Coach was launched in August and was co-developed by Silvia Hartmann and Jorge Vence.
Coaching very much represents a move away from problem solving, therapy and stress management, to striving forward for what you want to achieve in this life. In other words, coaching is about positive energy, baseline energy threshold shifts and moving up the Modern Energy Chart!
The final new course this year is my very own Modern Energy Dating Coach, which is an extension for Modern Energy Coaches looking to help their men and lady clients experience an abundance of social and romantic opportunities. It's amazing how great people feel when their 1st Circuitry is flowing and they're meeting new people!
This year we've launched a new inclusive membership bonus called the "GoE Digital Library" which provides hours of entertainment and educational resources. Dubbed "The Netflix for Energists" there are whole books, videos, guided meditations, conference presentations, magazines and energy music for you to enjoy.
Modern Energy ideas are travelling faster around the world than ever before.
International trainer Sandra Hillawi continues to lead the way having won "Trainer of the Month" several times this year before going on to win 1st place "GoE Trainer of the Year 2017"  She's been invited to teach in Turkey and Egypt bringing the new GoE courses to trainers who can't make it to the UK.
With Sandra taking the top spot for this year's GoE Trainer of the Year, Rania El Tahtawy from Egypt took 2nd place, Dr Saliha Eroglu from Turkey took 3rd place and the runners up were Aynur Apaydin, Nimet Özkan, Alexandra Paulino, Rosette Poletti, Peter Donn, Ilka Wandel, Iman Saad & Barbara Saph.
To help support our 170 members in Turkey, the GoE welcomed Cumasiye Özgür to the newly created position of GoE Turkish Member Support Manager. Cumasiye has already made a big difference in the region with achievements including establishing a relationship with local manual printers, setting up a Turkish language newsletter and help translating courses.
It's been really inspirational to see just what's possible in Turkey and especially so, thanks to trainers Aynur Apaydin for launching her own Modern Energy TV show, Gulcan Arpacioglu Adams for making inroads into the Turkish education and health ministries, and also prolific trainers including Saliha Eroglu, Nimet Özkan, Sabiha Erdinc and Erkan Özkan.
In Russia, Kazakhstan and the Ukraine, trainer Katerina Kalchenko has begun certifying our first members there.
Trainer Auk Murat from Indonesia has taken Modern Energy directly into the corporate world, teaching staff from Prudential and Mitsubishi. She also has been teaching Energy EFT to pre-schoolers which has been fantastic to see. What a start in life these children will now have!
Rosette Poletti is a new rising star within the GoE trainer community, reaching new members in both France and French speaking parts of Switzerland.
And we're seeing fabulous pictures and hearing wonderful stories from many other trainers around the world. In total, they've scheduled over five hundred workshops and trainings - they've never been busier! I love seeing the photos they've been posting on the GoE Member's Group!
A BIG thank you to our wonderful presenters who made the GoE Energy Conference 2017 so incredibly special: Silvia Hartmann, Susan Kennard, Ilka Wandel, Jimmy Petruzzi, Sandra Hillawi, Jorge Vence, Barbara Saph, Dr. Teresa Lynch, Lorna Firth, Wendy Fry, Beth Fitzgerald and Jacqueline Besseling. I also really enjoyed presenting on "The Energy of Attraction"!
One last development at the close of 2017 has been the launch of GoE Special Reports. Written by members for members, GoE Special Reports offer premium content for energists interested in a particular topic. Silvia Hartmann has written the first GoE Special Report called The Power of the Positives and we invite other members to get in touch if they'd like to contribute or provide a translation.
Our members are the heart and soul of everything we do here at the Guild of Energists. This guild is about bringing people together to share ideas, meet new people and help one another find out who they are at the next level on the Modern Energy Chart!
Whether you've made Modern Energy your profession or it's your passion, it's an honour to serve you! Do stay in touch throughout the year and let's move the world forward, one energy boost at a time!
💖 With love,
Alex
Alex Kent
CEO, Guild of Energists.
Added
Dec 30, 2017
| |
11,579 Reads
<![CDATA[SN-INDEX-CLOSE]]>